CONTEST RULES [Getting Started Guide]
Write an article about ProximaX! What is ProximaX? What are the benefits of using ProximaX over other blockchain infrastructures? What is the benefit of having all the tools required to develop any type of project in one place? Discuss some of the core-services such as storage capabilities, streaming, database and Supercontracts. Talk about how they could be used to build web services and projects. For example the streaming core-service can be used to make a video streaming service like YouTube or DTube. ProximaX has a number of existing applications, feel free to check them out as well! Come up with some potential use-cases of what you imagine being built on Proximax! Be creative with your use-cases! With ProximaX, you can build almost anything. As always, the topic is fairly open-ended, so be creative!
Scroll down to the bottom of the page and click the "Submit An Article" button.
Any and all plagiarism and word spinning will be immediately disqualified and will not receive a prize! We rather see honest effort.
At least 70% of the article must be original.
No copy-pasting without quotes.
Have questions about the project? No problem! The ProximaX team is always ready to answer questions in their Telegram group! Ask questions on things related to what you want to write and want to know more about.
Additional resources are linked at the bottom.
---
SUBMISSIONS
Write and publish an article on Medium or Steemit.

Article Share Bonus: If you wrote an article, share your article on Twitter to get a bonus! Make sure to include #proximax.
Article Bonus: If you would like to publish your article on both Medium and Steemit, one of them will be treated as a bonus.

Bonus Bounties:

Write a small blurb about an awesome ProximaX feature and post it on Twitter with the hashtag #proximax.
Post a ProximaX related graphic on Instagram with the hashtag #proximax.

Videos: Make a short video about ProximaX. Please be mindful of ambient noises and background if making a selfie style video. Videos can be posted on YouTube/DTube!
Max Submissions: One user can submit a maximum of one Medium or Steemit article (if both one of them will be treated as a bonus), one Twitter link, one Instagram link and one YouTube video.
---
PRIZE DISTRIBUTION
Prizes will be distributed to all users who fairly participate. Winners will be announced and posted here.

Articles will be ranked and receive rewards based on quality.
All qualifying bounties and link shares will get a small bonus depending on the number of participants.
Videos will be ranked an receive rewards based on quality.

When submitting an article please choose if you would like to be rewarded in STEEM, ETHEREUM or XPX (FOR XPX PLEASE USE MAINNET WALLET ADDRESS, USERS WHO CHOOSE XPX WILL RECEIVE AN ADDITIONAL 5% BONUS ON THEIR PRIZES).

Don't forget to go to your profile page and update your wallet information.
---
ProximaX Additional Resources
WHAT IS PROXIMAX?
The new landscape of decentralized ledger technology is more competitive than it's ever been. The sophistication and talent in the blockchain industry is now so robust that for a new project to catch the same network effect as the previous generation of successful projects, they must offer the whole package: smart contracts, scalability, SDKs (software development kits), IoT (internet of things) use cases, and agnostic asset exchange possibilities. These are just a few things that make the bare minimum of what the projects entering 2020 will have to be capable of.
ProximaX is a platform for easy-to-use application and service development. Instead of solely focusing on blockchain technology ProximaX is a set of tools for developers to use in order to build their applications while taking advantage of the inherent benefits of blockchain technology.
ProximaX is beyond making a new blockchain, or killer app use case. ProximaX is on a mission to make a fully fledged platform for universal application development; with blockchain as a value anchor among the builders, funders, and consumers of its new technological paradigm.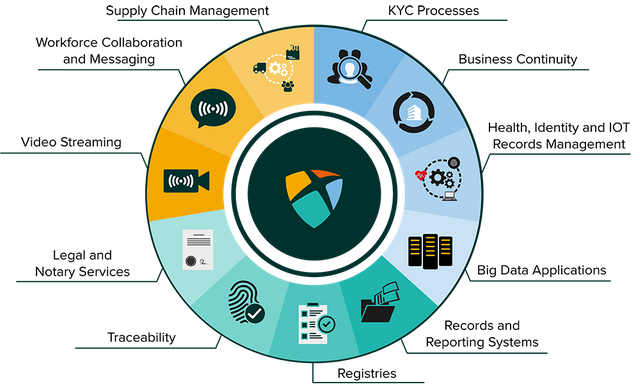 With ProximaX users can build:
Social Media Platforms (Like FB, IG, etc WITHOUT infringing on privacy)
Streaming Services (Netflix, YouTube, etc)
Business Services (Google Sheets, Tracking Software, Wrike, etc)
Almost anything else!

THE MODERN BLOCKCHAIN DISASTER
As of now, there are numerous blockchain projects offering a part of the whole. Some projects offer great transaction speeds, others focus on storage, while others on streaming, etc.
This creates a convoluted environment that makes it hard for developers to launch applications since there is no cohesion between the various development tools.
As an analogy, imagine building a vehicle that has the wheels of a truck, the engine of an airplane and the body of a car. Sounds like a bad idea right?
This is the current issue within the space of blockchain development. There is no cohesion, which in turn means that developers have to either stick together components that don't work well, or build out their own solutions which is time and cost prohibitive. This high barrier to entry creates an obstruction on the path to the mass adoption of blockchain.
THE SOLUTION - THE PROXIMAX SIRIUS CHAIN
ProximaX is an assembly of decentralized technologies, with blockchain acting as the core to the tokenomics. With ProximaX, the world is your oyster. Whether you want to build the next Facebook, YouTube, Steemit, Skype, Amazon or anything else you can think of, the ProximaX Sirius Chain has all the tools you need!
The Sirius Chain is the backbone that holds the ProximaX project on its feet. It is a blockchain denoted by a token called the "service unit." These units are smart contracts defined on the Sirius Chain, which is itself a fork of the highly successful NEM Chain, called Catapult.
The Sirius Chain also has a PoG (Proof of Greed) system which makes sure that nodes do not get too powerful by charging exorbitant prices for each block they validate. This provides a natural check to the ecosystem in terms of equality and utility.
The role of the Sirius Chain is to build a foundation upon which to run the core services of the ProximaX project.
PROXIMAX CORE-SERVICES
SIRIUS STORAGE & SUPERCONTRACTS
Distributed file storage is one of the first core services enabled by the ProximaX team on the Sirius Chain. File storage is done via a DFMS (distributed file management system). Data is encrypted and split into smaller units. It is then stored across storage nodes as agreed by consensus throughout the Sirius Chain.
This core service is offered via two methods:
Data is prerecorded on Sirius Storage to be streamed to viewers

Data is streamed live to viewers
The Sirius Database is a private-only service offering, unavailable to the public protocol. Applications requiring a database can use the Sirius Database to build hybrid architectures that can still access the core services of the public infrastructure.
Content review allows content managers to create review processes (based on consensus) throughout the protocol. Content review is another public core service.
TOKENOMICS & TOKEN ECOSYSTEM
To incentivize the work done, ProximaX has based its tokenomics on the following criteria:
Synergy and self-organization of system elements

Adaptability to different vectors of attack upon the system

Growing infrastructure to incorporate plug-ins for additional core services
The ProximaX token ecosystem has two layers:
The Native Token (XPX) - Powers the blockchain and pays for services

Service Units - Units of measure of the services performed over the protocol

Custom Tokens - Created by users to build DApp (decentralized application) markets throughout the network
End-user payments - Any method of payment (crypto or fiat) can be built into any application supported by ProximaX
THE NATIVE TOKEN: XPX
This is the token that powers the Sirius Chain; the core backbone of the ProximaX project. To utilize ProximaX services, users must pay with XPX.
XPX are traded in for service units via an automated inner exchange. These are consumed to process supercontracts.
Service units are used to:
Allow the consumer to pay for services

Reward the nodes for running services

Measure the capacity of a node for executing a service
The different types of service units are as follows:
Storage units (SO) - One unit represents 1GB stored per month

Streaming units (SM) - One unit represents 1GB streamed between users

Supercontract units (SC) - One unit represents one supercontract code executed

Review units (RW) - One unit represents 1 XPX worth of paid content
The initial service unit rates (which are subject to change) are as follows:
CUSTOM TOKENS: MOSAICS
Mosaics refer to contracts which are pre-defined on the blockchain protocol. These contracts can represent anything the designers wish for them to associate value with: currencies, assets, consumption, etc.
This means that ProximaX can be expanded indefinitely into various types of projects since you can continue to add tokens within the infrastructure to represent whatever it is you need!
Mosaics can be customized with unique properties such as:
AUTOMATED INNER EXCHANGE
The Automated Inner Exchange is built on top of the Sirius Chain to exchange the XPX with designated service units. Users can use the inner exchange economy to create new core service (such as a search engine) and their associated tokens.
THE PLATFORM: CONSUMERS AND APPLICATIONS
SDKs and REST APIs are the mediums by which the platform can be used by the consumer. Applications can be fully decentralized, semi-centralized, or completely centralized as seen fit by the developers via the SDK.
Each application can use ProximaX's core services directly, or build its own platform to provide the core services to its own end users.
An application owner that creates their service on top of the ProximaX platform must onboard their application.
The following core component features are available to application owners through the Sirius Chain:
Account - Identification infrastructure

Namespace - A plugin that creates a domain representation (name) of a business

Mosaic - A digital representation of value that may or may not be associated with a namespace

Metadata - Data associated with pre-built plugins; needed for applications relying on third-party services through the use of URLs (unified resource locations)

Supercontracts - Contracts that execute via a distributed manner with a pre-agreed consensus mechanism; developers can access pre-existing sets or create their own
Supercontracts can be restarted, amended, halted, augmented, discontinued; all off-chain so as to not interrupt the integrity of the Sirius Chain in the event of unforeseen problems
SIRIUS CHAIN GOALS
The goals of ProximaX, and by extension the Sirius Chain are the following:
Process transactions securely, quickly, and efficiently; a thousand per hour or greater

Encourage the expansion and security of the network

Scale at the lowest resource cost possible

Provide transaction types that allow cryptocurrencies to become more than just payment systems

Create an agile architecture for the deployment of new core services and advanced applications

Run on as many devices as possible (mobile and IoT)
SIRIUS CHAIN TOKENOMICS
The consensus mechanism of the Sirius Chain is PoS (Proof of Stake). The Proof of Stake infrastructure uses funds and time as part of the reputation metrics for the nodes on its network. The more funds a node has, and the longer it has been active, the higher its probability of solving the next block and therefore receiving its reward.
Participating as a Validator node on the Sirius Chain requires staking. The ProximaX team has run tests to determine the optimum staking for users to reap the benefits of the PoS system.
The recommended minimum stake is 250,000 XPX; whereas the recommended average stake is 2,500,000 XPX. These figures allow the Validator nodes to stay competitive with each other in the process of being elected to generate the next block on the Sirius Chain.
The ProximaX technical paper details the default fee structure of the Sirius Chain. They are left out of this section because these are nominal figures which do not themselves affect the interaction of the system's parts.
SDKs have these pre-configured default fee structures:
High Transaction Fee = Recommended transaction price for consumer * 0.025

Medium Transaction Fee = Recommended transaction price for consumer * 0.0025

Low Transaction Fee = Recommended transaction price for consumer * 0.00025
If a consumer builds their own mosaic or namespace, they pay a rental fee. The following fees are determined in genesis nodes which dictate the rental fees:
Mosaic Rental Fee = 10,000 XPX one-time payment

Namespace Rental Fee = 10,000 XPX per year
SIRIUS CHAIN CORE FUNCTIONS
Account - Parallel to application onboarding section

Namespace - Parallel to application onboarding section

Mosaic - Parallel to application onboarding section

Metadata - Parallel to application onboarding section

Multi-Level Signature - Used to build multi-level agreements

Cross-Chain Transactions - Transactions between two Sirius Chains; private and public; called an "atomic swap"
Entails locking funds on one chain (sender) and making a counter-asset available to another chain (receiver)
Aggregated Transactions - Combine multiple transactions
SIRIUS CHAIN CONSENSUS
ProximaX's blockchain Sirius uses a Proof of Stake (PoS) consensus algorithm because of its stronger throughput than the alternative Proof of Work (PoW) system found in the first generation blockchain protocols. The model for Sirius was adopted from NXT, and enhanced.
In the standard NXT version blocks were generated every minute. ProximaX needs only 15 seconds to do the same task; showing a four times efficiency boost. Because the full token supply is predetermined, the transaction work and fees of the PoS system in the Sirius Chain is one of redistribution.
PoG (Proof of Greed) is a mechanism developed by the ProximaX team to limit the transaction fees a node can charge. The Sirius Chain aims to redistribute a higher probability of success to consumers who opt for lesser fees. This feature is another novel development because many blockchain networks do not have adjustable fee frameworks.
There are two major vectors of attack against the ProximaX network:
Zero-Fee Attacks - Validators may validate transactions for free to combat the PoG system and take over the network by forging the most blocks
The solution ProximaX utilized was to ensure that those Validators which take some pre-specified average fee have a higher chance of forging a block
Large-Stake Attacks - This becomes a problem if a Validator with a 51% stake attacks the network, earn the majority of the fees, and begin to reverse transactions
PoG ensures there is a fair distribution of Validator rewards
PROXIMAX: THE VALUE ADD
ProximaX has its own novel contribution to the technical infrastructure developments of the blockchain sector. PoG is an original, synergistic, addition to the PoS system. It allows the system to scale, stay equitable, and egalitarian.
However, the greatest strengths of the ProximaX design is the converging application platforms. It is a project that does everything well, not accepting the limitations that other development teams decide for their own projects. The plethora of core services that rest on their own platforms are a testament to this; the common denominator of the Sirius Chain the ingenuity that makes the whole greater than the sum of its parts.